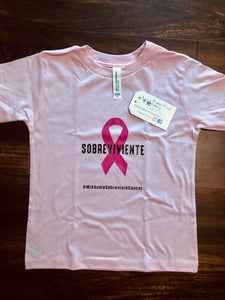 Because we know that the fight against cancer requires the support of our family and friends, we have created this t-shirt to celebrate your grandmother's victory over breast cancer. "My Grandma Survived Breast Cancer" shirts come in pink and are made from super soft  pre-shrunk 4.2 oz., 100% airlume combed and ringspun cotton to ensure it will fit perfect every time. The shirt features the same design as our Breast Cancer Survivor t-shirt and includes the hash tag "#MyGrandmaSurvivedBreastCancer."

Porque todos sabemos que la lucha contra el cáncer requiere el apoyo de nuestros familiares y amigos, hemos creado esta camiseta para celebrar la victoria de su abuela sobre el cáncer de seno. Nuestra camiseta "Mi Abuela Sobervivio Cancer" viene en color rosa y está hecha de algodón super suave preencogido para garantizar que le quede perfecta en todo momento. El diseño es el mismo que nuestra "Sobrevivie Cancer" camiseta e incluye el hash tag "#MyAbuelaSobervivioCancer."

The shirt is available in English and Spanish (shown).